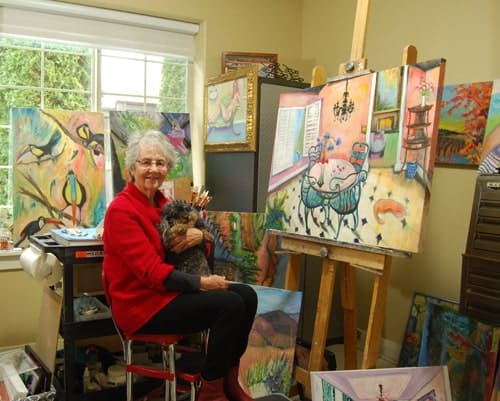 Claire Harkins
Claire Harkins is a regionally renowned artist from the Monterey Bay area who now resides in Medford, Oregon. She has been active in the local art community for over 35 years.
Claire's creative interpretation of her surroundings makes her artwork truly distinct. Additionally, having traveled to six continents, her global vision is incorporated in each piece of art. Her work is in private collections both nationally and internationally.
Artist Statement
Painting is Power
I never feel more powerful, happy or in control, than when I am painting. I paint with frenzy, afraid someone will interrupt me. I take no prisoners. I dance and shout, pull weeds and constantly talk to my dog.
Like many women, I like to arrange my world to my liking. It's sometimes difficult to buy new furniture, or rearrange grown trees. When I'm painting I am in control of this canvas universe and can make everything pink or purple, if I so desire. Frequently, I desire.
If I am painting a thigh, I can feel that thigh with my brush (do you want larger breasts, a nose job…no extra charge.) If I am painting flowers or fields I move within the petals or among the grass. I can feel the breeze from the mountains.
I love bold color, strong lines, light and shadows. In my landscapes I love to showcase movement in nature. In my "Room Portraits", I like to make up stories about who might be living there, what they might be doing. I fantasize about bygone eras when life might have been simpler.
I am not saving the world with my work, but would like to create some warmth, a smile, and a glimpse of my version of a canvas universe